Berwick News
Freedom Admissions Ceremony - Tuesday, 02 July 2019
02 July 2019
At a ceremony at the Town Hall on Tuesday, 02 July 2019 at 11.30am, five applicants were admitted as Freemen of Berwick-upon-Tweed. After the ceremony the applicants were photographed on the steps of the Town Hall.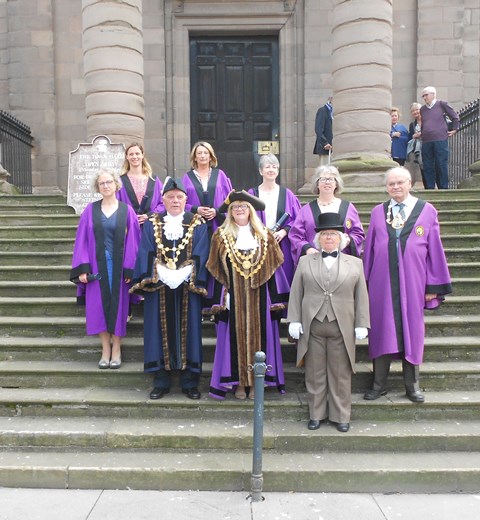 Pictured in purple robes are (left-to-right): Katherine Annette Reay, Katrina Amy Trotter, Sheila Violet Hill, Suzanne Elizabeth Ball, Juliet Caroline Dove (newly admitted Freemen) and Capt James Evans (Vice-Chairman of the Guild).
Pictured in the front row, in hats, are (left-to-right): Mr Martin Warner (Sheriff), Councillor Anne Forbes (Town Mayor) and Mrs Joyce Benton (Sergeant-at-Mace).