Berwick News
Neighbourhood Area Designation Application - Berwick-upon-Tweed
25 June 2015
Public Notice
Town and Country Planning Act 1990, (Section 61G)
The Neighbourhood Planning (General) Regulations 2012 (Regulation 6)
NOTICE OF CONSULTATION ON APPLICATION FOR DESIGNATION OF A NEIGHBOURHOOD AREA
Northumberland County Council hereby gives notice that Berwick-upon-Tweed Town Council has submitted an application for the designation of a 'Neighbourhood Area' under Regulation 6 of The Neighbourhood Planning (General) Regulations 2012.
Berwick-upon-Tweed Town Council is a 'Relevant Body' for the purposes of Section 61G of the Town and Country Planning Act 1990 and is therefore qualified to undertake neighbourhood planning. The proposed Neighbourhood Area covers the whole of Berwick-upon-Tweed Civil Parish area as shown on the map below.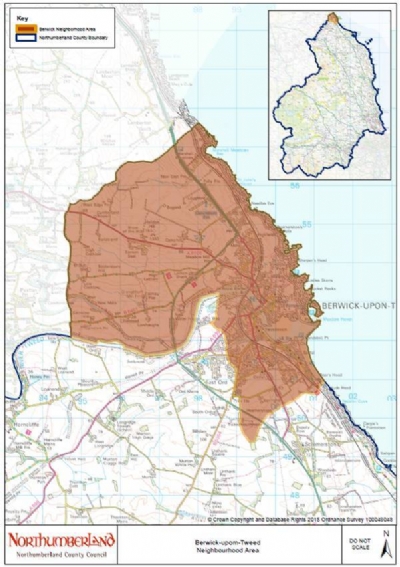 The application including the proposed boundary and supporting statement submitted to Northumberland County Council can be viewed on the Council's website at www.northumberland.gov.uk or in person at Council Offices, Wallace Green, Berwick-upon-Tweed, Northumberland, TD15 1ED; Berwick Library, Walkergate, Berwick-upon-Tweed, TD15 1DB; and County Hall, Morpeth, NE61 2EF during normal opening hours.
If you wish to make representations on the proposed neighbourhood area, these must be made by email or letter. Representations must be received by the County Council on or before Monday 27 July 2015.
Please address any comments to: David English, Communities and Infrastructure Team, Northumberland County Council, County Hall, Morpeth, Northumberland, NE61 2EF. Email: David.English@northumberland.gov.uk Tel: 01670 623619