Berwick News
Would you like to be a Town Councillor?
23 October 2014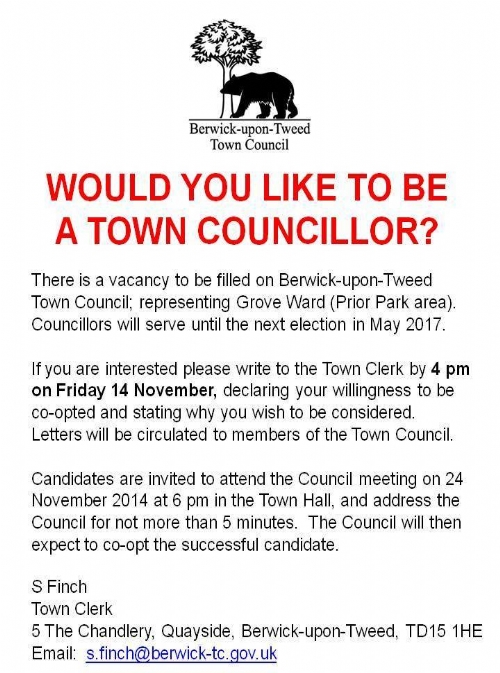 Information about eligibility, the Council and the role of Councillor, can be found by clicking
---
Kwiksave Site
16 October 2014
The planning application for the development of the former Kwiksave site has now been received from the County Council and is out for consultation, with a closing date for comments of 3 November. The County Council website sets out how to comment on planning applications.
The
---
Who Is Your Local Hero? Nominate Them Now!
13 October 2014
Do you know someone in your area who always 'goes the extra mile' to give you help and support?
Would you like to thank a local company who supports your community?
Northumberland Local Heroes awards are a way of saying thank you.
For further information,
---
Freedom Admissions Ceremony - 30 September 2014
30 September 2014
At a ceremony at the Town Hall today, Tuesday 30 September 2014 at 2.30pm, seven applicants were admitted as Freeman of Berwick-upon-Tweed. After the ceremony the applicants were photographed on the steps of the Town Hall.
---
Vacancy for Grove Ward
29 September 2014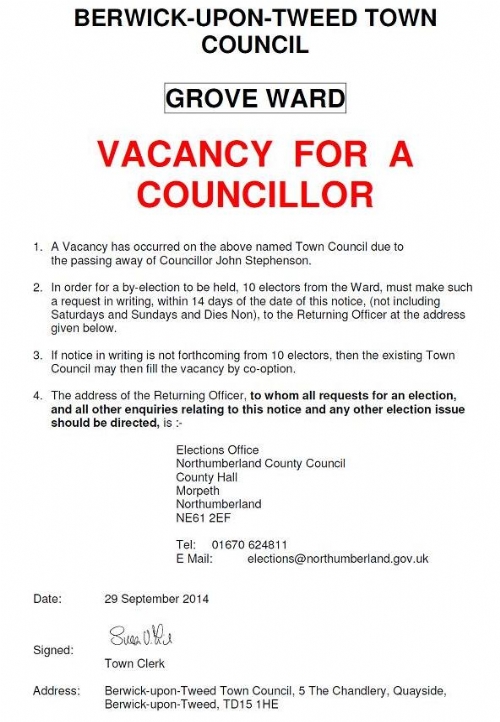 For the procedure in the event of a casual vacancy on the Town Council please click
---